Marketing Services
We help companies achieve their marketing and financial goals by offering marketing services and resources that fit their needs.
We help companies achieve their marketing and financial goals by offering marketing services and resources that fit their needs.
Lendan Communications is a locally owned and operated marketing services company designed to solve the problems you face in marketing your business in today's environment. Our focus is to help businesses in the Dallas/Fort Worth area get better results for their marketing dollars. Printing and marketing are changing rapdily - are you getting the results you want?
Some of the common challenges we help solve are:
- creating a new look, design, message, logo or complete branding package
- providing Ad Agency level creative at an affordable budget
- reducing printing delays and expense by getting your project on the right press
- updating or creating a new web site that meets the needs of your business and your customers
- SEO, paid and custom web marketing plans
- sourcing promotional materials and corporate apparel
Design Services
We offer a variety of design services that bring different levels of sophistication in order to find just the right solution for your needs and budget. It's a very economical and efficient method for evaluating new marketing concepts.
Printing Services
We have multiple offset presses, digital presses as well as banner/poster printers at our disposal. We save you time and money by getting each project to the right equipment based on your needs. Projects such as manuals, catalogs, direct mail and newsletters are fast and efficient.
Introducing our new InfoPrint 5000. We will be able to reduce expense and increase speed with this incredible machine. It's perfect for manuals, booklets, programs, variable data letters, and more. It runs 18 times faster than tradition high speed duplicators and can handle full variable data.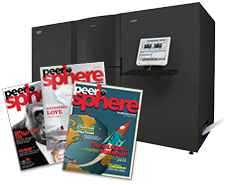 Web Sites
Web sites need to be clean, user friendly, and up-to-date. Your needs for your web site depend on how you and your clients/prospects need to use it. We offer our clients multiple resources optons to meet their specific needs. We can help you with any project from a very basic and inexpensive sites to a multi-national business site.
SEO & Web Marketing
Search Engine Optimization and web marketing strategies are critical in today's environment. Tie in your sales and marketing strategy using solid SEO and web marketing strategies including banner advertising, social media, blogging, Pay Per Click, and Remarketing.
Promotional Items & Apparel
Your marketing isn't complete without the final touch of how your employees look and what you provide to your clients and prospects. Any business that has a sales staff should evaluate their sales collateral and look!
Could your marketing be any better? You know it can be. Give us a call to see how we might be able to help you!
Arlington/Dallas/Mansfield 817 797-3434
Fort Worth/Grapevine/Keller 817 709-4428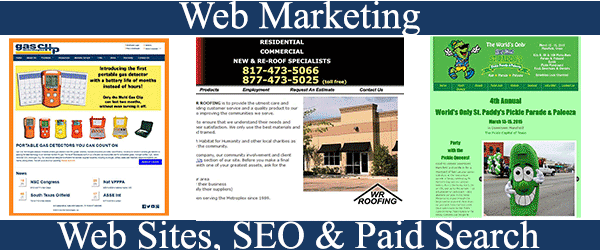 Submit your project information and we will contact you soon.

Whether it's an existing order or new, we can make the process simple and easy.